I'm linking up with
Kay
for Wedded Bliss Wednesday. This week's topic is marriage advice.
If you could give one piece of advice to any married couple, what would it be?
Communication really is the key. If something is bothering you it is much better to hash it all than to hold it all in. You are a team. There should not be sides. Communicate and find a solution that works for both of you. Also, don't forget the small things. Compliment each other and find ways to keep that new couple spark alive that you started with.
What is an absolute MUST for any marriage/relationship?
Trust, trust, and more trust. 
What is a no-no in a marriage?
Besides the obvious things I would say name calling and demeaning your spouse.
What is the biggest lesson you have learned from your marriage?
I feel like as John and I grow and evolve I am always learning something. I think the biggest lesson I have learned is true love. John and I are truly deeply in love. I try not to sweat the small things because he really is my life partner. I know that no matter what obstacles are in our way, we can get through it together. I have learned to be more selfless. A marriage is give and take.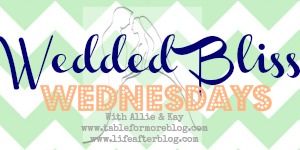 **I'm guest posting over here today!